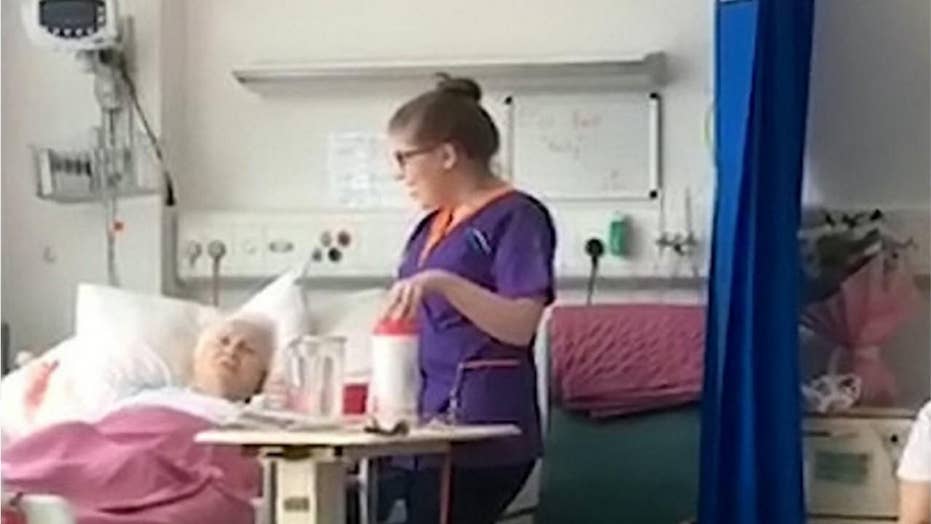 Video
Nurse sings 'Amazing Grace' to sanatorium patient, held on cellphone video
Nellie Barr, 87, had been in sanatorium for around a week when Brittany McArthur, 21, was filmed singing her favorite song.
A intense impulse between a nursing tyro and her studious was prisoner on a cellphone video by another patient, who afterwards common it with a bum 87-year-old's beholden family. Nurse Brittany McArthur, 21, who is caring for Nellie Barr, comforted her studious with a balmy chronicle of "Amazing Grace."
"As shortly as we saw it we found it impossibly romantic and overwhelming," Jason Barr, one of Barr's 22 grandchildren, told SWNS. "There were a few tears we have to say. It usually shows a extraordinary caring she is receiving."
US BIRTH RATES HIT ANOTHER RECORD LOW IN 2018
Barr, who has been in Altnagelvin Hospital following a teenager health scare, had usually met McArthur that day before a span sang together.
"I didn't unequivocally have a reason to do it," McArthur, who is a third-year nursing tyro during Ulster University, told SWNS. "We usually picked a strain and sang together. I'm blissful it took her mind off a pain. we don't tend to get nervous, we was usually happy to make her smile."
Similar moments between nurses and their patients have left viral recently, with many commenters mostly observant how health caring extends past administering medicine, a idea that resonates with McArthur.
CLICK HERE TO GET THE FOX NEWS APP
"Nursing isn't usually about a clinical care, it's about caring for a whole person," she told SWNS. "It is some-more than usually medicine. we wish to make a disproportion and if we can make someone grin even for 10 mins afterwards that's excellent by me."