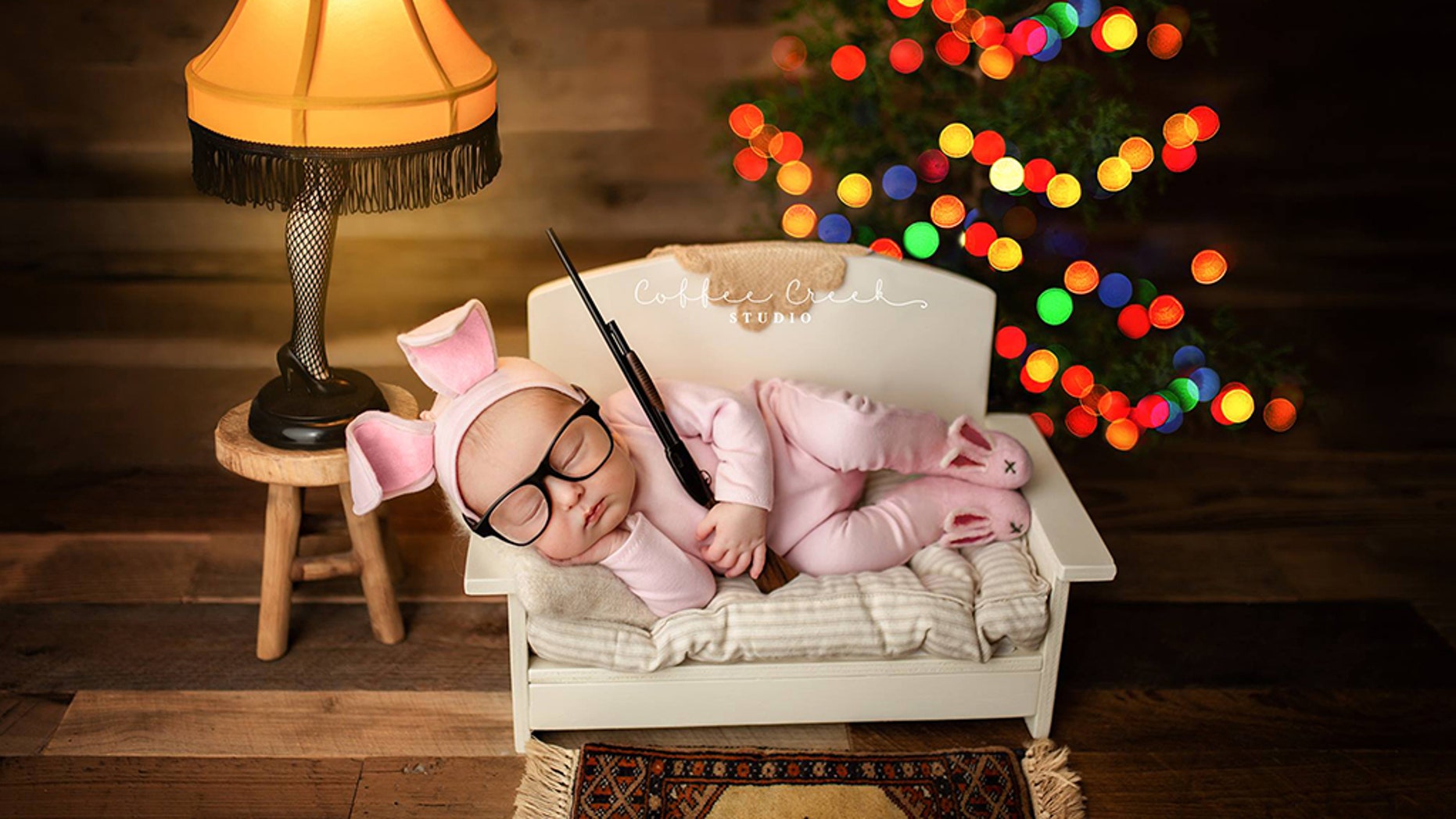 The photographer says she never dictated for a photos to be descent or inspire gun assault in any way.
(Amy Haehl / CoffeeCreekStudio)
Though a Christmas deteriorate is still a few weeks away, some Facebook users are removing dismissed adult over one Indiana photographer's "A Christmas Story"-themed mural session, starring a sleeping baby child acted with miniature, reproduction BB gun.
On Nov. 6, Amy Haehl of Coffee Creek Studio common a print to Facebook of a snoozing kid given in a iconic pinkish bunny fit from a 1983 strike flick. Fast defunct by a Christmas tree and a iconic Leg Lamp, a youngster binds a mistake arms propped adult in his arms.
FLIGHT ATTENDANT PRAISED FOR BREASTFEEDING PASSENGER'S BABY MIDFLIGHT ONCE MOTHER RUNS OUT OF FORMULA
"Only 49 days until Christmas!! Ralphie desired his pinkish bunny fit we had done for him!" a Shelbyville photographer wrote in a post that has given left viral with over 2,000 likes and scarcely 600 comments. "Disclaimer – a BB gun is done of timber to safeguard that he did NOT fire his eye out during a origination of this photo."
Despite Haehl's disclaimer, some amicable media commenters found a design to be reduction than funny.
"Will now unfollow you. Who a ruin would take a design of a baby and a gun only for money. Such a rubbish given we are so talented. Think tough about your miss of principles," one censor wrote.
"Also unfollowing and unliking you. Extremely distasteful…. Guns are never "cute", not even as a column or film reference. Disgusting. The gun enlightenment in this nation is a disgrace," another agreed.
Meanwhile, Haehl pronounced she never dictated for a photos to be descent or inspire gun assault in any way.
"Of march we know in a universe we live in we was holding a possibility that someone would be offended, and we really did take that into care while still formulating a print with a ideal details," she told Yahoo Lifestyle. "I know there have been a few comments done in regards to gun violence, and this print is in no approach meant to inspire gun assault or provoke anyone who has been influenced by gun violence."
FOLLOW US ON FACEBOOK FOR MORE FOX LIFESTYLE NEWS
"This print is not about a baby acted with a 'gun'… it is about love, tradition, family, and happiness," she continued with a matter on her Facebook page. "['A Christmas Story'] has speedy smiles, laughter, and complacency for 35 years. It also happened to be filmed right here in a midwest where we was innate and raised."
Fans of a design rushed to urge Haehl's work, observant that a design put them in a "Christmas spirit" as she recreated a "fond memory" of a classical film.
"Don't listen to a gibe – multitude is apropos too simply offended!!" one wrote.