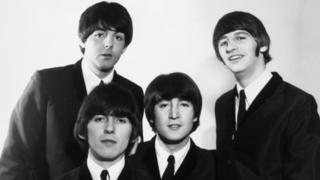 Music upholder Tony Calder, who helped The Beatles measure their first hit single, has died at the age of 74.
The executive, who started his career at Decca Records in the 1960s, went on to work with the Beach Boys, Marianne Faithful, Black Sabbath and Eddy Grant.
He also co-founded his own eccentric record label, signing acts including Rod Stewart and Fleetwood Mac.
Andrew Loog Oldham, his former business partner, tweeted: "A member of the family has left us."
Skip Twitter post by @loogoldham
End of Twitter post by @loogoldham
Born in Surbiton, Surrey, to Scottish relatives in 1943, Calder was one of the busiest agents on the music stage of the 1960s, operative at Decca Records by day and as a DJ for Mecca dancehalls by night.
In 1962, he was tasked with compelling the Beatles' first single, Love Me Do.
"It was not getting radio play and after the first week they were in panic," Calder once told BBC Radio 2.
"And that's when we thought, 'This fills all the Mecca dancehalls that we play at – let's do that spin the country.'"
So he privately sent 100 copies of the singular to clubs all over the UK, with a note observant it was a guaranteed floor-filler.
"We mailed it on the Monday. By Wednesday, they were all personification it," he recalled.
When George Martin met The Beatles: The story of Love Me Do
New Year Honours for Ringo Starr
That, in turn, combined direct for the strain in internal record stores, and helped The Beatles strech series 17 in the UK charts.
"The record was struggling and it picked up – and that's how we got it away," pronounced Calder.
A few years later, he assimilated forces with Rolling Stones manager Andrew Loog Oldham to launch a PR company, Image. Together, they helped concrete The Rolling Stones' repute as the bad boys of British rock.
"In those days you couldn't get cocktail stars on the front page of a inhabitant paper," he once said.
"It took a report of Mick urinating on the wall of a petrol hire to do that, when actually it was Bill Wyman.
"Andrew and we sole that story. We got 10 quid any for it."
Outside of his promotional duties, Calder also constructed Marianne Faithfull's top 10 hits Come and Stay With Me and This Little Bird.
In 1965, Calder and Oldham founded shaped UK eccentric tag Immediate, whose artists enclosed Rod Stewart, Fleetwood Mac, PP Arnold and the Small Faces.
However, the tag lost millions of pounds and was inextricable in authorised disputes for years after it collapsed in 1970. The Small Faces famously only started to accept royalties for albums like Ogden's Nut Gone Flake in 1997.
In the 70s, Calder sealed groups Black Sabbath and managed Eddy Grant. He was credited with saving Grant's we Don't Wanna Dance from being a lost demo when he pushed for its recover as a single.
He also sealed The Bay City Rollers, but not on their artistic merits.
"I saw them play live in Edinburgh early on, and they were atrocious," he told The Herald in 1995.
"But there were police outward holding back lines of screaming kids… so we suspicion I'd squeeze a interest in some of that."
He remained active in the 80s and 90s, assisting newness rope Jive Bunny measure 3 uninterrupted UK series one hits; and enjoyed success with his edition company, Marylebone Music.
Calder and Oldham also wrote a book on Abba in the 1990s, which was widely derided by fans, who claimed it was riddled with significant inaccuracies.
According to reports, Calder died of complications from pneumonia at the Chelsea and Westminster Hospital in London.
His friend, Mark St. John, paid tribute: "Tony was a polarising character, but, adore him or hatred him, he was one of a kind and a huge, outrageous partial of formulating and consolidating the music attention at a time when it was still in its Wild West phase."
Oldham told Variety magazine: "Tony had ears and balls. we desired him and he will be missed."
Follow us on Facebook, on Twitter @BBCNewsEnts, or on Instagram at bbcnewsents. If you have a story idea email entertainment.news@bbc.co.uk.
BBC Music homepage
BBC Music News LIVE