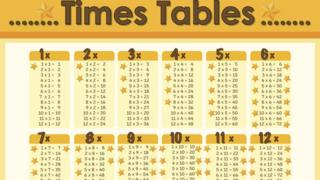 Thousands of eight and nine-year-olds in England's primary schools will take a new times tables check this spring.
Some 7,250 pupils in 290 primaries, are approaching to take partial in the trials of the new computation check.
The five-minute test, taken by children in Year 4, will then be entirely rolled out over the next two years.
Ministers contend the test will brand those struggling, but teaching unions have lifted concerns about its benefits.
Supporters have argued that it will help to safeguard all children know their tables up to 12 off by heart, but opponents contend primary school children are already heavily tested.
Nick Brook, emissary ubiquitous secretary of the National Association of Head Teachers pronounced it was "hugely disappointing" that the Department for Education was still dynamic to bring in a computation tables test.
"This test won't tell teachers and relatives anything they don't already know about their children. Although school results won't be published, this supervision test will be scrutinised by Ofsted when they revisit and will therefore turn even some-more significant.
"A pupil's primary school years are already cluttered with tests and checks. We wish all children to attain at school, but the answer isn't to test them more."
Mike Ellicock, arch executive of National Numeracy, said: "While the introduction of this test is underpinned by good intentions, we need to be clever not to hit the fun out of children's early mathematical practice or confuse schools from building children's genuine bargain of numbers.
"Knowing your tables is profitable – we all use them in bland life – but what is some-more critical is having a genuine feel for numbers and bargain the patterns behind times tables so children can use the believe flexibly in the genuine world.
"The risk in putting so much importance on tables contrast – effectively on rote training – is that it becomes a box-ticking exercise, and hinders the growth of unsentimental series sense"
But the DfE pronounced the test would last a limit of 5 mins and would concede teachers to guard a child's progress.
Schools can take partial in the computation check willingly in Jun 2019 and it will be mandatory from 2020.
School standards apportion Nick Gibb said: "Just as the phonics screening check helps children who are training to read, the computation tables check will help teachers brand those pupils who need additional support.
"This will safeguard that all pupils leave primary school meaningful their times tables off by heart and means to start delegate school with a secure grasp of the elemental arithmetic they need to do their potential."