After months of articulate about several reforms, the House voted Thursday 256-164 to replenish Section 702 of the Foreign Intelligence Surveillance Act (FISA) with only singular changes, rejecting all critical restrictions on surveillance.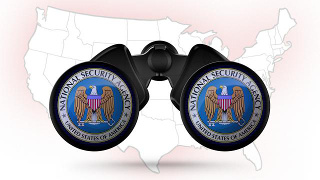 House Speaker Paul Ryan (R-WI) shielded the renovation on the grounds that "we don't know what the terrorists are up to," despite the territory having been in place for years, permitting the same mass surveillance, and abuse already.
The check still has to get by the Senate, which may not indispensably be an easy task. Sens. Rand Paul (R-KY) and Ron Wyden (D-OR) both coming out against any long-term extension, and Sen. Paul has pronounced he will filibuster any chronicle of the check that doesn't embody the major remodel of requiring warrants to surveil Americans.
So distant there's no denote that the Senate care has any some-more ardour for critical remodel than the House did, but this bipartisan opposition, and hazard of a filibuster, may make renovation reduction certain.
Last 5 posts by Jason Ditz
US Treasury Secretary Expects More Sanctions on Iran – Jan 11th, 2018
Trump Says He 'Probably' Has Good Relationship With Kim Jong Un – Jan 11th, 2018
US Deployed Nuke-Capable Bombers to Guam During Korea Talks – Jan 11th, 2018
Key Senator: Progress Made on New US War Authorization – Jan 11th, 2018
Pentagon Investigates Video of US Soldier Shooting Afghan Civilian – Jan 11th, 2018
Jason Ditz
Jason Ditz is news editor of Antiwar.com.
View all posts by Jason Ditz