Calls by the UN for a charitable ceasefire in Yemen, and calls by the US for the Saudis to finish the besiege of Yemen both seem to have depressed on deaf ears, with the besiege stability so far, and Saudi warplanes aggressive the Yemeni collateral with even some-more power than before.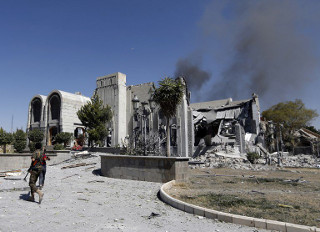 While Saudi airstrikes over the weekend were presented as an bid to support former Yemeni President Ali Abdullah Saleh in "switching sides," Saleh's death on Monday meant the Saudi bloc has rebranded the attacks as focusing on avenging Saleh.
The Saudi bloc appears fervent to promote this, with UAE Crown Prince Mohammed bin Zayed al-Nahayan visiting Saleh's banished son to offer condolences, and lifting speculations that the younger Saleh could shortly be sent to Yemen to try to lead what's left of the Saleh force.
Saleh's GPC and the Houthis are the two categorical factions in northern Yemen, and the Houthis have followed up the death of Saleh by seizing his home and the homes of several of his relatives. The Saudis have subsequently inebriated Saleh's home, which ironically is what they did at the start of the fight that led Saleh to align with the Houthis in the first place.
The fight and besiege has killed thousands, and put millions on the margin of starvation in northern Yemen. The Saudi strikes are stability to wear that crisis, and in the collateral of Sanaa, many civilians are fundamentally trapped in their homes
Last 5 posts by Jason Ditz
North Korea FM: US Threats Make War Unavoidable – Dec 6th, 2017
Trump Recognizes Jerusalem as Israeli Capital – Dec 6th, 2017
Trump Calls on Saudis to End Yemen Blockade – Dec 6th, 2017
Russia Promises to Exert Influence on North Korea – Dec 5th, 2017
Russia Labels Radio Free Europe, Voice of America, as 'Foreign Agents' – Dec 5th, 2017
Jason Ditz
Jason Ditz is news editor of Antiwar.com.
View all posts by Jason Ditz