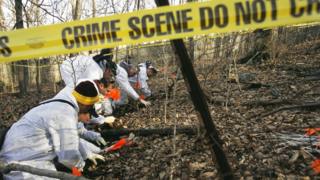 Cells continue to duty even after an particular dies.
That's according to a systematic study published in Nature Communications.
Analysing autopsy samples, an general group of scientists showed that some genes became some-more active after death.
As good as providing an critical dataset for other scientists, they also wish that this can be grown into a debate tool.
Inside the cells of the bodies, life plays out under the absolute change of the genes; their outputs tranquil by a operation of middle and outmost triggers.
Understanding gene activity provides a ideal discernment into what an particular cell, hankie or organ is doing, in health and in disease.
Genes are sealed divided in the DNA benefaction in the cells and when these are switched on, a tell-tale proton called an RNA twin is made.
Some of the RNA directly controls processes that go on in the cell, but many of the RNA becomes the plans for proteins.
It's the RNA transcripts that scientists mostly magnitude when they wish to know what's going on in the cells, and we call this research transcriptomics.
Inner workings
But receiving samples for study isn't an easy thing.
Blood is comparatively easy to get, but lopping off an arm or adhering a needle into a vital person's heart or liver is no pardonable undertaking.
So, scientists rest on a comparatively abounding source of samples – tissues and viscera private after death.
Whilst studies of autopsy samples can yield critical insights into the body's middle workings, it isn't transparent if these samples truly represent what goes on during life.
The other confounding means is that samples are frequency taken immediately after death, instead a physique is stored until autopsy hearing and sampling can take place and its impact is unclear.
And it's this faith on stored autopsy samples that endangered Prof Roderic Guigó, a computational biologist formed at the Barcelona Institute for Science and Technology and his team.
"You would design that with the death of the individual, there would be a spoil in the activity of the genes," he explained.
And this spoil competence impact correct interpretation of transcriptomics data.
Post-death throes
To see if this was the case the group used next era mRNA sequencing on autopsy specimens collected within 24 hours of death and on a subset of blood samples collected from some of the patients before death and, as Prof Guigó explained, what they detected was surprising:
"There is a greeting by the cells to the death of the individual. We see some pathways, some genes, that are activated and this means that someday after death there is still some activity at the turn of transcription," he said.
Although the accurate reason the genes remained active was unclear, Prof Guigó does have one probable explanation: "I would theory that one of the major changes is due to the relinquishment of upsurge of blood, therefore we would contend substantially the categorical environmental change is hypoxia, the miss of oxygen, but we don't have the explanation for this."
What the study did yield was a set of predictions of post-death RNA turn changes for a accumulation of ordinarily complicated tissues against which future transcriptomic analyses could be calibrated.
And the bargain of the changes in RNA levels that start after death competence also be pivotal in future rapist investigations.
"We interpretation there is a signature or a fingerprint in the settlement of gene countenance after death that could eventually be used in debate science, but we don't fake we have now a process that can be used in the field," pronounced Prof Guigó.
Whilst the information was unchanging opposite opposite cadavers, and accurate predictions of time given death could be estimated from the RNA levels, Prof Guigó explained that additional work would be indispensable before its focus in forensics could turn a reality:
"It requires serve investigation, longer autopsy intervals, not only 24 hours, the age of the individual, the means of death – all of these will need to be taken into comment if we are to modify this into a useful tool."