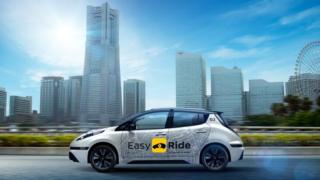 Carmaker Nissan plans to test self-driving taxis on Japanese roads from Mar next year.
The company is partnering with Japanese program company DeNA, which operates online services for the gaming, medical and automotive industries.
It will adjust a Nissan Leaf electric car, which passengers will serve using an app.
Nissan joins a flourishing rope of carmakers trialling self-drive cars, including General Motors and Volvo.
The free trials will be held over a two-week duration in Mar in Yokohama.
The Easy Ride complement could be launched in Japan in the early 2020s.
"With 'more leisure of mobility' as its concept, Easy Ride is envisioned as a service for anyone who wants to transport openly to their end of choice in a robo-vehicle," Nissan pronounced in a statement.
"The idea is to concede business to use a dedicated mobile app to finish the whole process, from environment destinations and summoning vehicles to profitable the fare."
Tokyo Olympics
During tests, there will be a staff member in the driver's chair to approve with Japanese law.
Customers, who can request from now until 15 January, can name internal destinations and sightseeing routes.
Meanwhile, Japanese robotics builder ZMP is operative with a Tokyo cab user to rise self-driving taxis for the 2020 Tokyo Olympics.
Elsewhere, Uber is operative on its own self-drive service and in Nov struck a understanding with Volvo to buy up to 24,000 cars.
And Waymo, owned by Google primogenitor company Alphabet, is formulation to test unconstrained cars with no human reserve driver.