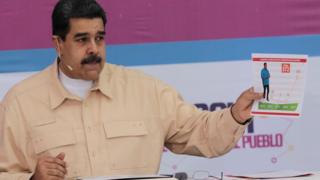 Venezuelan President Nicolás Maduro has announced the origination of a new virtual banking in a bid to palliate the country's mercantile crisis.
He pronounced the Petro would be corroborated by Venezuela's oil, gas, bullion and solid wealth.
Opposition lawmakers, however, poured ridicule on the plan.
Venezuela's economy has been hit by descending oil income and the plummeting value of its existent currency, the bolivar.
President Maduro has also railed against US sanctions which he describes as a "blockade".
In a televised proclamation on Sunday, Mr Maduro pronounced the new crypto-currency would concede Venezuela "to allege in issues of financial sovereignty, to make financial exchange and overcome the financial blockade".
"The 21st Century has arrived!" he combined to cheers from supporters.
Venezuela: To default or to pay
Venezuela in crisis
He gave no sum on how, or when, the new banking would be launched.
The pierce follows augmenting global seductiveness in the crypto-currency Bitcoin.
A US regulator recently pronounced it would let two normal exchanges start trade in Bitcoin-related financial contracts, nonetheless the digital banking continues to infer volatile.
Venezuela owes an estimated $140bn (£103bn) to unfamiliar creditors and economists advise Mr Maduro is looking to try to compensate them with Petros as he seeks to restructure the country's debt.
Opposition lawmakers insisted the due banking would need the subsidy of the National Assembly, and some doubted it would ever happen.
"It's Maduro being a clown. This has no credibility," antithesis lawmaker and economist Ángel Alvarado told Reuters news agency.
Venezuela has historically relied on its oil resources to support its economy but a decrease in oil prices has sent the country into mercantile and domestic crisis.
The US and European Union have imposed sanctions, citing odious policies by the government.
Last month, Russia concluded to restructure $3.15bn (£2.4bn) in debt due by Venezuela. The understanding allows Venezuela to make "minimal" repayments on its Russian obligations over the next 6 years.