After scoring estimable gains progressing this week, the Syrian military's descent into the Idlib Province appears to have stalled, at slightest for the time being, s insurgent factions have carried out a renew against them.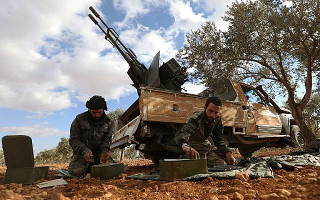 The concentration of the descent has been capturing the Abu al-Duhur military airbase, which the rebels prisoner back in mid-2015. Syrian troops had pushed to within just a few miles of the base, but seem not to have gotten any closer.
The rebels are fighting under both the ensign of the Free Syrian Army (FSA), and al-Qaeda's Nusra Front, with the after claiming to have begun to "encircle" the advancing supervision forces in the area.
The counter-offensive is likely to delayed advances on the belligerent in the interim, yet they customarily lead to escalations in airstrikes against both the insurgent forces, and rebel-held towns in the closeness of the fighting. Already, some strikes were reported in Idlib towns.
Last 5 posts by Jason Ditz
House Votes to Renew FISA, Bill Moves to Senate – Jan 11th, 2018
European Powers to Meet Iran to Back Nuclear Deal, in Message to Trump – Jan 10th, 2018
US Hails Talks Between North and South Korea – Jan 10th, 2018
Navy Surface Commander: US Needs More Ships or Fewer Missions – Jan 10th, 2018
Trump Expected to Preserve Iran Nuclear Deal – Jan 10th, 2018
Jason Ditz
Jason Ditz is news editor of Antiwar.com.
View all posts by Jason Ditz