The Trump Administration's position on North Korea continues to be very capricious tonight, with Vice President Mike Pence capping off his anti-diplomacy Olympics pull with an countenance of honesty for approach talks.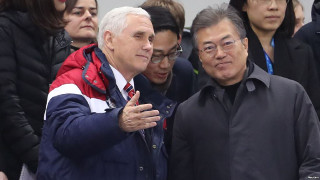 "If you wish to talk, we'll talk," Pence said, and while he continued to speak up escalation of sanctions and isolation, the thought of approach tact has been one the Trump Administration has struggled to understanding with via its time in office.
President Trump has at times suggested talks were possible, but conditioned them on North Korea totally disarming beforehand. Secretary of State Rex Tillerson, when he's permitted talks, has been cursed by the president.
So these churned signals are clearly zero new, and the US position seems to be that they're open to talks, so prolonged as they don't actually happen, and that while the talks aren't happening, new sanctions are to be imposed constantly, despite clearly all already having been sanctioned.
Last 5 posts by Jason Ditz
Kim Jong Un Says Continuing Dialogue With South Korea Important – Feb 12th, 2018
Report Urges 20,000 UN Troops in Ukraine – Feb 12th, 2018
Syria's Manbij Has NATO Allies US, Turkey Divided – Feb 12th, 2018
Trump Vows Major Expansion of US Nuclear Arsenal – Feb 12th, 2018
Netanyahu's Annexation Claim Sparks First Real Crisis With Trump – Feb 12th, 2018
Jason Ditz