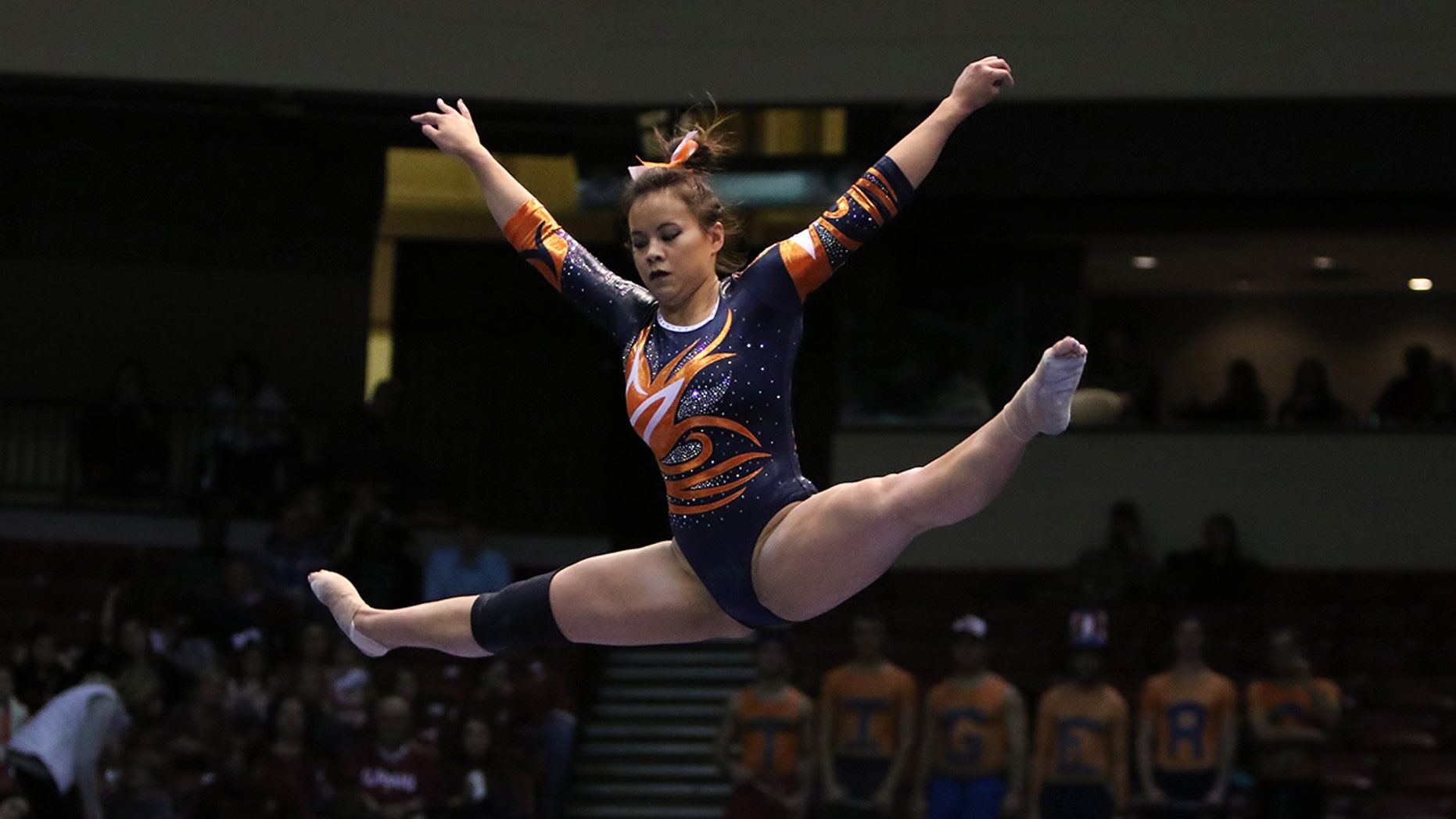 Auburn Tigers Samantha Cerio was severely harmed during her building slight on Friday.
(Michael Wade/Icon Sportswire around Getty Images)
A comparison gymnast from Auburn University had to be carted out in a bracket from an NCAA gymnastics informal eventuality on Friday after a critical leg damage during her building routine.
Samantha Cerio was creation her initial pass during a Baton Rouge Regional, attempting a handspring double front with a blind alighting when she done a tough alighting and fell to a mat.
"It was flattering tough to watch," Auburn manager Jeff Graba pronounced after a meet, according to Nola.com. "She's a trouper. The final thing she pronounced was, 'Go assistance a girls.' The girls rallied around her. They're doing this for her right now."
LAST-SECOND FOUL LIFTS VIRGINIA OVER AUBURN; TEXAS TECH TOPS MICHIGAN STATE
Cerio was reportedly screaming in anguish on a building and clutching both her legs before she was tended by medical staff and jaunty trainers.
Auburn officials have not given a specific refurbish on Cerio's injuries, though Nola.com reported that Cerio dislocated both of her knees and pennyless both of her legs.
Paramedics placed atmosphere casts around both her legs and carried a 5-foot comparison from Huntersville, N.C., out on a bracket amid a station acclaim from fans, The Advocate reported.
Cerio, who focuses on a building and a bars, was recently named an SEC co-scholar contestant of a year, according to a Auburn Tigers website.
NOTRE DAME WOMEN OUST UCONN AGAIN, WILL FACE BAYLOR IN TITLE GAME
The group finished a Friday night foe with an altogether measure of 197.075, a top informal measure in module story to allege to a informal final on Saturday night. That drew Cerio to share her thoughts on Twitter, essay "I adore my group #WarEagle."
The group rallied around Cerio's injury, with a hashtag "#StickItForSam" before a final on Saturday night.
Graba told a Advocate she was a "heart and soul" of a team.
"We wanted some-more than anything to do this for her," he said.
CLICK HERE FOR THE FOX NEWS APP
Even with rallying around their harmed teammate, a gymnastics group finished adult entrance adult brief during a informal finals on Saturday, finishing fourth, according to a Auburn Tigers website.
"I consider we were out of gas," Auburn conduct manager Jeff Graba pronounced after a final. "Emotionally spent. But we suspicion a girls fought hard. They did a good job."